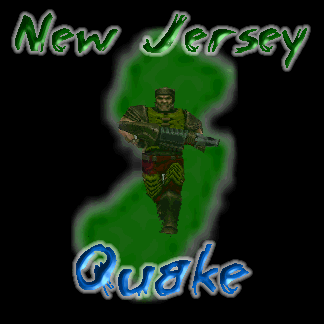 LAN PARTY LISTINGS
Until the Next NJQuake Lan Party

days hrs minutes/secs
Ok, its FINALLY here, the Fifth OFFICIAL NJQUAKE LAN PARTY! <insert applause here>
Click the links for more info if you need it.
ABOUT: A little history behind the NJQuake Lanparties like you care!!
WHEN: Friday, June 8 thru Sunday, June 10, 2001 Thats right, 3 days of "Fun Filled Fragging" !! (patent pending)
WHERE: Hall located at Green-fields Vol Fire Company, 31 Budd Blvd., West Deptford, NJ 08096
COST: A mere $25.00 for a 3 day weekend of fun! What a bargain!
LODGING: You can bring a sleeping bag and pull up some floor if you like, or for the more civilized among us, there
is a hotel nearby. like you really plan on SLEEPING?
SIGNUP!: Signups are CLOSED!
WHO: Here is a list of who is coming so far
RENTALS: No Rentals for this event, Sorry :(
GAMES: Here's some of the mods/games we'll be playing (Coming Soon!)
WHAT: If you've never attended a LAN party before, this is what you need to bring.
SPONSORS: These companies are helping to sponsor NJQ5. Please support them!
---

This LAN Party Ring site owned by New Jersey Quake Group.